Hello Virtual Comedy Show lovers,
Welcome to the most comprehensive up to date list of all Zoom comedy shows on the internet worth seeing right now. Best part is most of them are free!
The Beta Show ep 51
Wed, April 6, 2022
9:00 PM – 10:30 PM EDT
be·ta show
/ˈbādə ˌshow/
The Beta show, a space for comedy to be experimental. A mix of newcomers and seasoned pros test out new bits, and concepts in front of an audience. We like to keep the show strange and fun, there are always surprises! Hosted weekly by Mariam Khan 
https://unknowncomedyclub.com/products/the-beta-show-ep-51
SunNight FunNight Comedy LIVE on ZOOM!
Date and time
Sun, April 3, 2022 8:00 PM – 10:00 PM ED
What To expect
Babs Gray, Brandie Posey, and Tess Barker (hosts of the Lady to Lady podcast) present SunNight FunNight: A virtual monthly comedy show full of your favorite standup comics, Resident Hunk Ryan Nemeth, music, variety acts, and more!
This show is ONLINE so enjoy it from the comfort of your own home! Grab a cocktail, get cozy, and join us the first Sunday of every month.
Sunday April 3rd Lineup:
River Butcher (Conan, Comedy Central, Good Trouble on Hulu)
The Siren Of Magic: Elizabeth Messick (Netflix, The Magic Castle)
Resident Hunk Ryan Nemeth (AEW, WWE, Jimmy Kimmel Live)
Lineups change each month - previous guests have included Kyle Kinane, Jackie Kashian, Beth Stelling, French Stewart, Nicole Byer and more!
Grab VIP tix to hang out with the ladies after the show, or grab the VIP package to get discount tickets to the whole year, plus access to every after party! VIP Packages are only available through March!
VIP after-parties include Babs, Brandie, and Tess. Other performers may also be there but there is no guarantee.
Get Tickets here.
FREE Virtual Comedy Show! Special Guests!

Date and time
Mon, April 4, 2022 8:00 PM – 9:30 PM EDT
What To expect
Check out the Chirping Bird FREE Comedy Show! See top headlining comedians from around the country. Special Guests!!
Comedians from HBO, Comedy Central, MTV, Sirius XM, Fox, HBO Max, NBC and more! Special Guests!!
Enjoy at home from the comfort of your sweatpants!
Zoom link in the confirmation email
No drink minimum! Killer Show. See these comics before they hit the clubs again.
15 years old and older.
Tickets : https://www.eventbrite.ca/e/free-virtual-comedy-show-special-guests-tickets-189717800047?aff=erellivmlt&keep_tld=1
Open Mike Comedy Show (Virtual Event)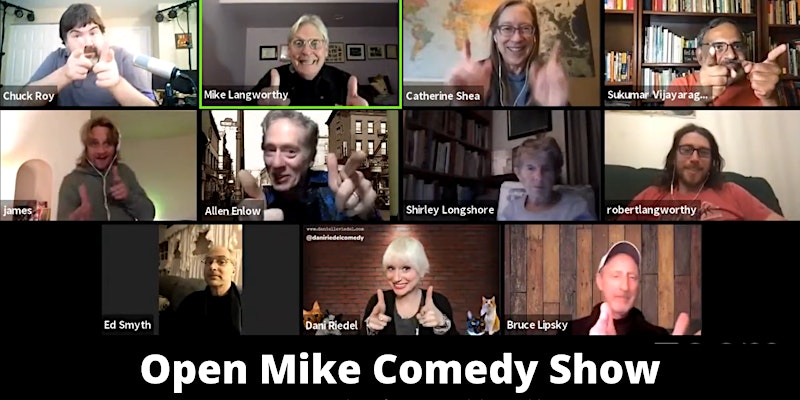 Date and time
Mon, April 11, 2022 10:00 PM – 11:00 PM EDT
What to Expect
A virtual open mic! Be part of the audience on Zoom!
Watch the live stream on the Colorado Comedy Shows YouTube Channel.
Open Mike Comedy Show is a 1-hour virtual event featuring funny, new comedians. You'll laugh with your host, Mike Langworthy, a professional comedian and television writer.
Meet comedians from around the world!

Watch professional comedians test new material!

Check out the funniest new comedians too!
We donate 10% of ticket sales to Elevating Connections
General Admission $10

VIP $25, includes special recognition during the show

Support Elevating Connections programs for youth separated from their siblings by foster care
Comedian? Register for a FREE Guest Spot ticket
Register for the free Guest Spot ticket to book a 5-minute set.

Maximum of (2) spots per month

, please.

You get to invite (1) guest.

If you don't see the Guest Spot ticket it's probably sold out.

Just want to watch? Use promo code 'Comic' for a free ticket
We donate 10% of ticket sales to Elevating Connections
Programs for youth separated from their siblings by foster care.

Food support

Mobile technology for work and school
Get Tickets here:
One More Dad Joke Comedy Show VIRTUAL VIEWING OPTION (April, 2022)

Date and time
Sat, April 16, 2022 8:30 PM – 10:00 PM EDT
What to Expect
Comedians perform their best sets followed up with their best/favorite dad joke.
This is a CLEAN Virtual Comedy Show and will take place LIVE and streamed via ZOOM.
Show Sponsored by Mental Health Quest
Join Licensed Clinical Social Worker, Charlene, and Registered Psychological Assistant, Benjamin, as they guide you on a quest through mental health, therapy and more!
Google Podcasts / Podbean / Spotify / Amazon music / iHeart Radio
Headliner:
PT Bratton
Featuring:
Jake Leizer
Abbey Mello
Michael Furr
Stacey Axler
Hosted by:
Erin Patrick
UnCabaret Zoom Edition #43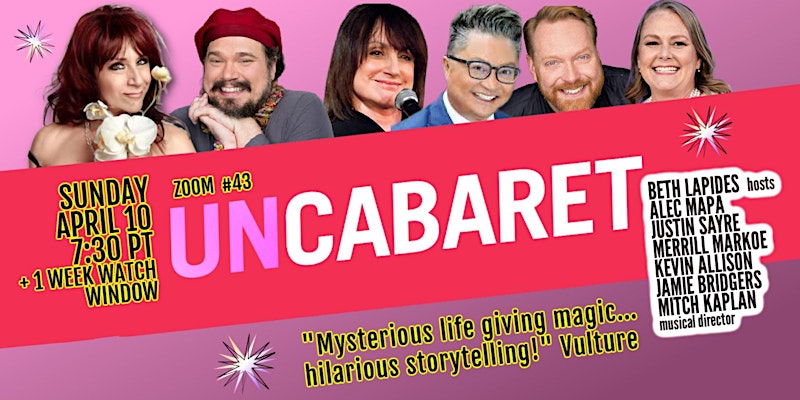 Sun, Apr 10, 2022, 10:30 PM EDT
What to Expect
Vulture called Beth Lapides' UnCabaret "one of the best livestream comedy shows... with magical lifegiving mystique... hilarious storytelling!" Come see why on Sunday April 10 when Beth and her stellar guests Alec Mapa, Merrill Makoe, Justin Sayre, Kevin Allison and Jamie Bridgers share stories, wisdom, rants, songs, commune and a deep dive into this now. Plus Mitch Kaplan and the band.
"We all need a good laugh right about now, right? Here's an opportunity to have that and feel like you're actually part of a community again." LA Weekly
"UnCabaret is a progressive comedy institution!" Variety
Tickets include a 1 week watch window. The private link will be sent to you as soon as the live stream concludes.
UnCabaret is a legendary comedy innovator largely responsible for the revolution in alt comedy. It's a place for wildly fun, idiosyncratic, intimate, conversational comedy, where comedy luminaries share the stories ripped from the headlines of their own lives. Always different, and always about the now. UnCabaret has been breaking ground in comedy for 25 years live and on Amazon, Sirius and Comedy Central.
Why the Un? Unhomophobic, unxenophobic, unmysogynistic. Unhacky.
Chris Witty's Comedy Ding Dong with Rosie Jones - Streaming Tickets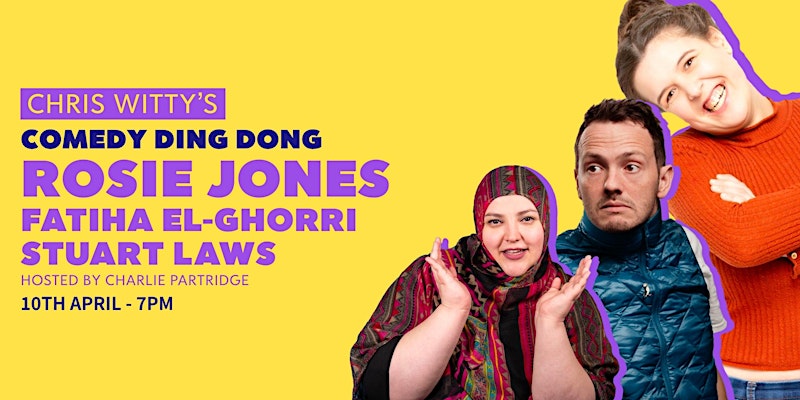 Sun, 10 Apr 2022, 14:00 EDT
What to Expect
A TRIPLE DOSE OF STAND UP.
An evening of mad musical comedy from the host, Charlie Partridge (playing the role of "Chris Witty") and some stellar stand-up from the best comedians on the circuit!
LINEUP
ROSIE JONES
Our headliner is the outrageously talented stand-up, writer and actor - Rosie Jones.
★★★★★ 'Rosie Jones is completely brazen, downright hilarious and will leave you snorting with laughter' -
Ed Fest Mag
★★★★★ 'Rosie embodies pure joy. She packs in the jokes, quick wit and has the audience in the palm of her hand' -
Entertainment Focus
STUART LAWS
Stuart is the comedy scene's brightest polymath.
A comedian, actor, director and writer, Stuart performs sketch comedy and stand-up comedy. He supported James Acaster on tour, has performed multiple shows at The Soho Theatre.
★★★★★ 'Deliriously fun' -
The List
★★★★ 'You'll struggle to find a comedian with a better jokes-per-minute rate' -
Fest
NOMINATED: Best Show, Leicester Comedy Festival 2021.
FATIHA EL-GHORRI
Underneath Fatiha's colourful hijab is a mind full of cutting observations and engaging witticisms on the life and times of a British Muslim woman. Fatiha smashes the Muslim stereotypes and challenges people to think about what they think they know about Islam, Muslims, and Muslim women especially.
As seen on The Jonathan Ross Show, The Russell Howard Hour, Comedians V Food, Stand Up Sketch Show, Jonathan Ross' Comedy Club and Comedy Central at the Edinburgh Fringe.
CHARLIE PARTRIDGE (MC)
Charlie will be playing the role of Chris Witty who is in no way related to the Chris Whitty but just so happens to also be a Professor of medicine. Got it? Great.
★★★★★ 'Packed with laughs' -
Fringe Guru.
FINALIST: Hackney Empire New Act Of The Year, 2020
Stream directly via NextUp.
Become a member to watch this show and access our unrivalled library of content, or buy a one-off streaming ticket.
Tickets
https://www.eventbrite.ca/e/chris-wittys-comedy-ding-dong-with-rosie-jones-streaming-tickets-tickets-308559217927?aff=erellivmlt&keep_tld=1
Comedy Knockout at Backyard Comedy Club - Streaming tickets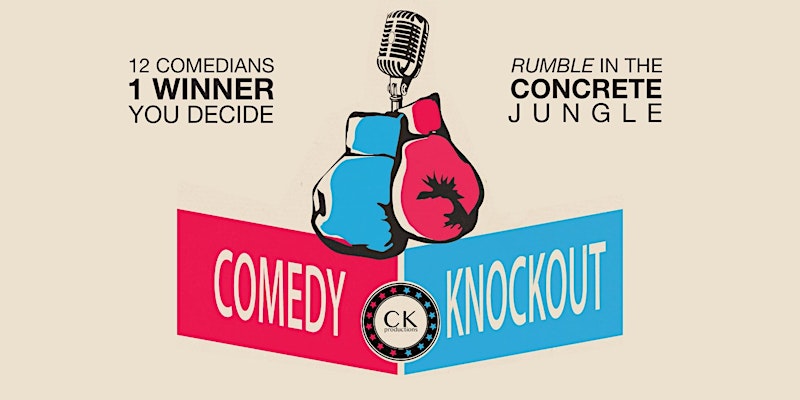 Tue, 3 May 2022, 15:00 EDT
What to Expect
Comedy rumble in the concrete jungle!
COMEDY KNOCKOUT
Streamed Live from Backyard Comedy Club
Join us for a brand new concept show.
Where the in-venue audience decides which comedians get their chance to be the next big thing!
Comedy Knockout is a comedy competition where new acts battle it out for a chance at winning a coveted weekend spot at the Backyard Comedy Club where they'll get to perform alongside some the countries top comedians.
12 people go head to head with their best comedy material – then the audience in the room vote who goes through to the next round where we'll be left the finalists, who will then give you more of the funny before the final vote where the winner is crowned!
Let the funniest win!
Virtual Clean Comedy Experience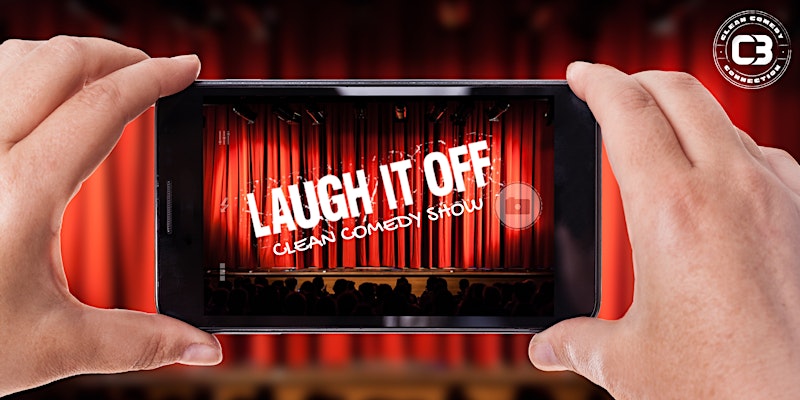 Fri, Apr 8, 2022, 7:30 PM EDT
LaughItOff Clean Comedy Show is a stand up comedy show that brings together amazing comedians from in and around the DMV area for a hilarious clean comedy experience we can enjoy each month.
https://www.eventbrite.ca/e/virtual-clean-comedy-experience-tickets-237757026667?aff=erellivmlt&keep_tld=1
"A Finer Comedy Hour: To Laugh our Blues Away"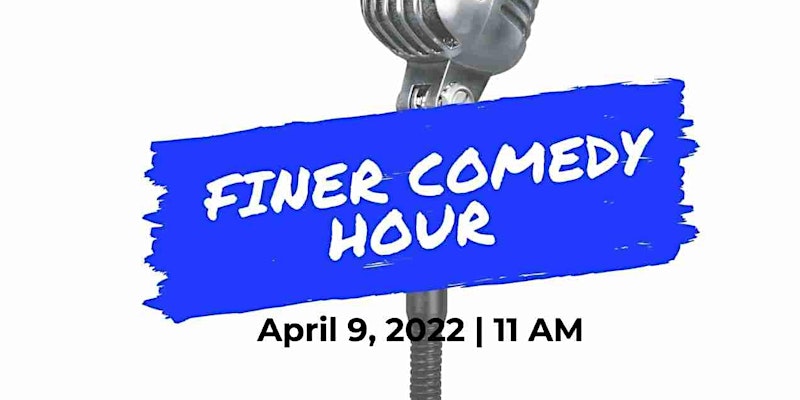 Sat, Apr 9, 2022, 12:00 PM EDT
Greetings from the Pi Zeta Chapter of Zeta Phi Beta Sorority, Incorporated. We are excited to invite you to participate with us in our 2022 Philanthropic Fundraiser. This year our organization will host a comedy show featuring local comedians who will provide laughter and entertainment to our members and friends. The theme of this year's event is "A Finer Comedy Hour: To Laugh our Blues Away."
The comedy show will take place on Saturday, April 9, 2022, at 11:00am. This is a virtual event. The cost of the tickets is $50.
Virtual Clean Comedy Open Mic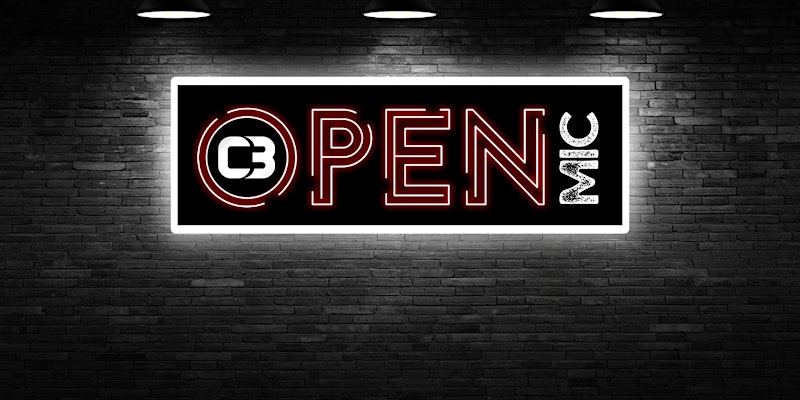 Wed, Apr 6, 2022, 8:00 PM EDT
What to expect
Clean Comedy Connection (C3) entertainment hopes to nourish and establish the careers of the very best Clean Comedians on the comedy circuit today by offering a 1-hour Zoom event where up-and-coming comedians can try clean material in front of a supportive and enthusiastic audience, i.e. you!
To keep the feel of a live supportive audience, we ask that audience members have their video on during the open mic. Anyone who is unable to join with their camera will unfortunately not be allowed to join/attend.
***If you want to perform, email hello@c3entertainment.live to sign-up.***
Get tickets here:
First Impressions Virtual Stand Up Comedy Show
Wed, April 13, 2022
9:00 PM – 10:00 PM EST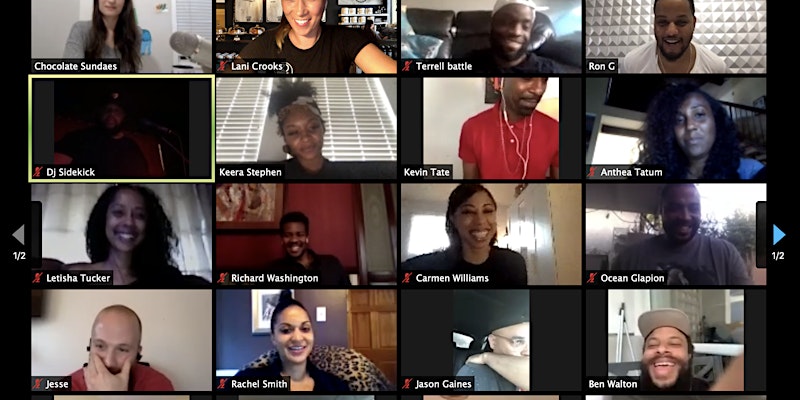 April 13, 2022: Did you know that Kevin Hart first started on our First Impressions stage?
First Impressions was created as the beginning segment to every Chocolate Sundaes Comedy Show to give up-and-coming comedians a chance to perform on one of stand ups biggest stages - the Laugh Factory in Hollywood.
Kevin Hart. Dave Chappelle. Ali Wong. Howie Mandel. Chris Rock. They've all hit our stage at the world famous Laugh Factory in Hollywood. And now - you can join us to find the next big comedy star from the very beginning.
Everything you love about Chocolate Sundaes - the hilarious comedians, the inclusive vibe, the amazing music, the trendy ambiance - is now available in your living room! The thousands of people who've joined us this year will tell you that our show is not like the other virtual shows you've seen. You will become a part of a community that has helped each other survive and laugh through these tough times. And we'll treat you like family - we'll roast you, your house, your pets and whoever else we can see on your screen!
This show is for adults 18 and over. We can't stop you from having your kids in the room, but we highly suggest against it!
The Mac Pac Comedy Show Online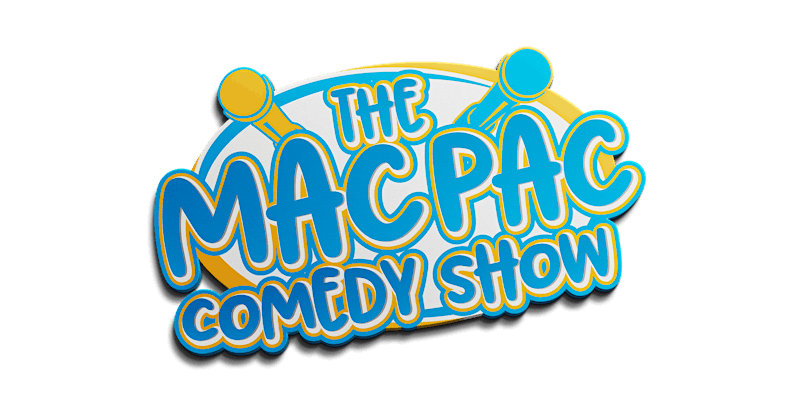 Wed, April 13, 2022
7:30 PM – 9:30 PM EST
April 13, 2022: We Bring you The Mac Pac Comedy Show. From the comfort of your home
Let's kick off February 2022 with great drinks, incredible food, and superstar comedy!
***SHOW WILL BE FEATURED ON CABLE TV AND ON SOME STREAMING SERVICES***
These shows sell out fast so get your tickets as soon as they're available. Come and join us for a comedy experience at Midtown Live that you'd expect to get in New York, Chicago, or Las Angeles.
Many thanks to our sponsors; Midtown Live, SpitFire Hip Hop Radio, and BlackLink Magazine. These local businesses are all very excited to see entertainment returning and date nights happening! Their funding has been essential in keeping ticket prices low and bringing you all back out into the world.
Shop local!
Doors open for food and drinks at 7:30 and the show starts at 8:00.
Bring the laughs and well bring the jokes
With a great deal of excitement, we're bringing you a different group of comedians every show. Some local, some from across the country, all extremely talented and funny.
Sounds by Cali From Texas
Created, produced, and directed by MacPac Ent
AzureLive 2022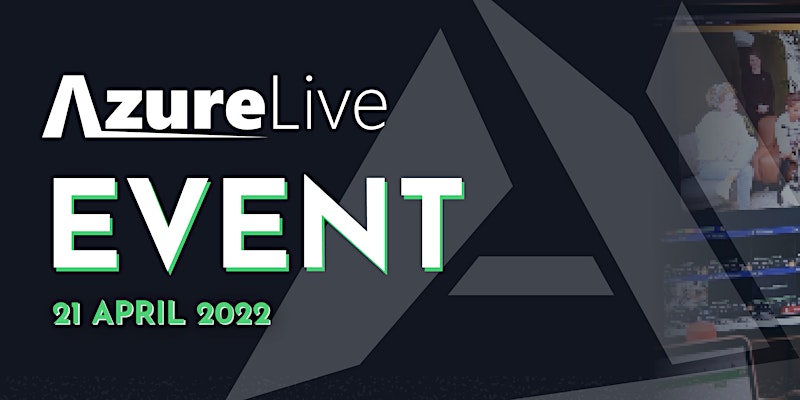 Thu, April 21, 2022
6:00 AM – 3:00 PM EST
 April 21, 2022: Join us at AzureLive for the latest insights from the best Azure experts. In this livestream you will be able to join keynotes, break-outs and workshops.
When registering you'll receive a confirmation via Eventbrite an additional email with a link to register for your sessions and the keynote livestream will be sent later on.
For more information about AzureLive, the list of speakers and full program check-out www.azurelive.nl.
Watch last year's aftermovie for an impression of the event.
P.S. Leave your address and we might send you a little goodie bag later on.